We support long-term customer relationships
In order to support the success of our clients – and of ourselves – in a sustainable way we strive for:
Simplicity
Speed
Client orientation
Enthusiasm
These values are of particular importance to us. They provide the base for close cooperation of our staff members with our clients, partners and suppliers.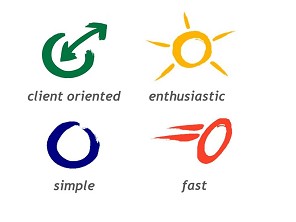 Why do we support our values?
Common values provide sense and orientation
They articulate our way of collaboration
Our products are the expression of our values
They are leading to the success of our clients